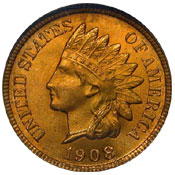 The Indian Head Cent was produced from 1859 to 1909, following the very short lived Flying Eagle Cent series. During the Indian Head Cent's run, coins were produced primarily at the Philadelphia Mint, with the final two years also produced at the San Francisco Mint. The series includes a change of the reverse design after the first year and a change in composition which took place during 1864.
The lowest mintage coin is the 1909-S at just 309,000 pieces. Another important date of the series is the 1877 Indian Head Cent, which had a reported mintage of 852,500.
The table below contains the complete mintage figures for the Indian Head Cent coins.
| Issue | Mintage |
| --- | --- |
| 1859 | 36,400,000 |
| 1860 | 20,566,000 |
| 1861 | 10,100,000 |
| 1862 | 28,075,000 |
| 1863 | 49,840,000 |
| 1864 copper-nickel | 13,740,000 |
| 1864 bronze | 39,233,714 |
| 1865 | 35,429,286 |
| 1866 | 9,826,500 |
| 1867 | 9,821,000 |
| 1868 | 10,266,500 |
| 1869 | 6,420,000 |
| 1870 | 5,275,000 |
| 1871 | 3,929,500 |
| 1872 | 4,042,000 |
| 1873 | 11,676,500 |
| 1874 | 14,187,500 |
| 1875 | 13,528,000 |
| 1876 | 7,944,000 |
| 1877 | 852,500 |
| 1878 | 5,799,850 |
| 1879 | 16,231,200 |
| 1880 | 38,964,955 |
| 1881 | 39,211,575 |
| 1882 | 38,581,100 |
| 1883 | 45,589,109 |
| 1884 | 23,261,742 |
| 1885 | 11,765,384 |
| 1886 | 17,654,290 |
| 1887 | 45,226,483 |
| 1888 | 37,494,414 |
| 1889 | 48,869,361 |
| 1890 | 57,182,854 |
| 1891 | 47,072,350 |
| 1892 | 37,649,832 |
| 1893 | 46,642,195 |
| 1894 | 16,752,132 |
| 1895 | 38,343,636 |
| 1896 | 39,057,293 |
| 1897 | 50,466,330 |
| 1898 | 49,823,079 |
| 1899 | 53,600,031 |
| 1900 | 66,833,794 |
| 1901 | 79,611,143 |
| 1902 | 87,376,722 |
| 1903 | 85,094,493 |
| 1904 | 61,328,015 |
| 1905 | 80,719,163 |
| 1906 | 96,022,255 |
| 1907 | 108,138,618 |
| 1908 | 32,327,987 |
| 1908-S | 1,115,000 |
| 1909 | 14,370,645 |
| 1909-S | 309,000 |