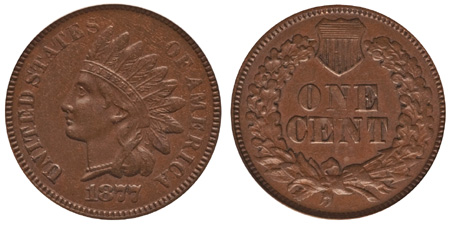 The 1877 Indian Head Cent (Buy on eBay) is the well-known classic key date coin of the series. With a reported mintage of 852,500 pieces, the issue carries a strong premium across all grade levels and choice examples remain in high demand with collectors.
The creation of the key date is related to the Mint Act of 1871, which authorized the Mint to redeem cents which had been hoarded during the American Civil War. Initially, the Mint melted the millions of redeemed cents and used the metal to strike and reissue new cents. In 1877, the Mint decided to simply reissue the redeemed cents, reducing the need for new production.
From the reported mintage of 852,500 pieces, relatively few pieces have survived. This has led to speculation that the mintage may have been incorrectly reported, or that a large portion of the mintage was not released and later melted. Across all grades, it is estimated that 5,000 examples are still known to exist with perhaps only 10% in uncirculated condition. The finest known pieces are a handful graded MS-66 Red, with one example recently selling for $114,000 in 2019.
The 1877 Proof Indian Head Cent had a mintage of approximately 900 coins. This is comparable to the proof coin production for other coins of the era, however the rarity of the circulation strike transfers some desirability to the proof version, granting a premium.
Coin Specifications
Designer: James B. Longacre
Composition: 95% Copper, 5% Tin and Zinc
Weight: 3.11 grams
Diameter: 19 mm
Edge: Plain