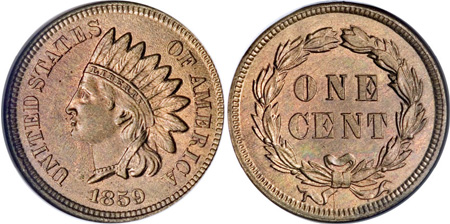 The 1859 Indian Head Cent (Buy on eBay) was the first year of issue for the series and a one subtype. The coin had a mintage of 36,400,000 coins produced for circulation with an estimated 800 coins in proof format. The circulation strike represented the highest mintage of any United States coin up to that time.
Due to the larger mintage and the tendency for the public to keep first year issue coins, the 1859 Indian Head Cent is available in all grades today. Most examples circulated for at least a few years, either before or after the Civil War. Mint state coins are available but experience constant demand from type set collectors seeking a premium quality example of this issue.
The coins represents a one year subtype for the series because of the reverse design, which featured a laurel wreath. For all subsequent years of the series, an oak wreath with a shield at the top was used.
Coin Specifications
Designer: James B. Longacre
Composition: 88% Copper, 12% Nickel
Weight: 4.67 grams
Diameter: 19 mm
Edge: Plain