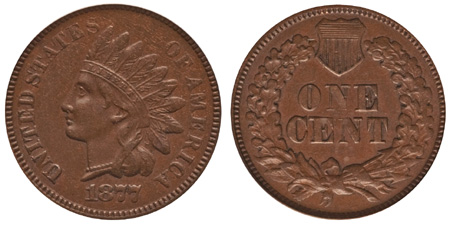 The 1877 Indian Head Cent is known as a key date coin of the series. There were 852,500 pieces reportedly produced for circulation, although Rick Snow suggests that only 200,000 coins were struck. Whatever the number is, the coin is rare in all grades.
Most of the coins produced experienced significant circulation, making uncirculated coins infrequent. Choice examples are always in demand and finding the right price may require several years of intensive searching for the conscientious collector.
The 1877 Proof Indian Head Cent had a mintage of approximately 900 coins. This is comparable to the proof coin production for other coins of the era, however the rarity of the circulation strike transfers some desirability to the proof version, granting a premium.